Reverse Mortgage Counseling Roundup for 2012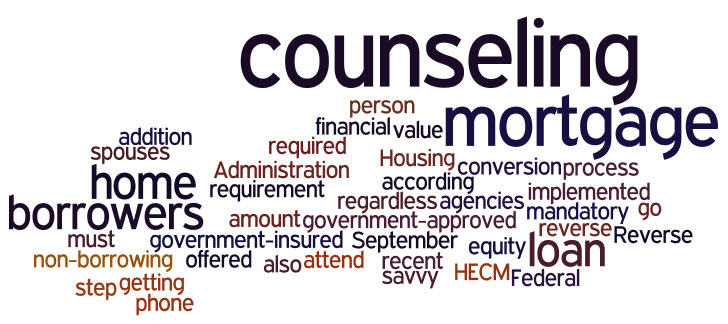 Reverse mortgage counseling is a mandatory step in the process of getting a government-insured home equity conversion mortgage (HECM) loan through the Federal Housing Administration. All reverse mortgage borrowers—regardless of loan amount, home value or financial savvy—must go through this counseling, which is offered over the phone or in person through government-approved counseling agencies. In addition to borrowers, non-borrowing spouses are also be required to attend counseling, according to a recent requirement implemented in September.
Reverse mortgage counseling, although it has long been standard procedure for borrowers, has seen its share of change over the past year. Here's what to expect for counseling in 2012.
For Free or Not For Free?
In April 2011, government funding for all housing counseling was cut completely as the result of a last-minute budget deal to keep the government operating. Many national reverse mortgage counseling agencies saw funding dry up as the 2012 fiscal year approached, and many were forced at that time to reintroduce the fees they had previously been able to waive.
In 2012, funding has been restored to the point where most counseling agencies that were able to waive fees in the past will be able to waive them once again. This should mean free counseling through the agencies that offer it. However, counseling agencies are still awaiting grant money from FHA that will have some bearing on their decisions in 2012.
Typically, borrowers can expect counseling fees of around $125 per session, which generally lasts about 90 minutes. The fee can be financed into loan closing costs, and for certain income levels, can be waived entirely. Some counseling agencies offer free counseling regardless of income.
Lender Underwriting
In late 2011, the National Reverse Mortgage Lenders Association, the industry association for reverse mortgage lenders, released new guidance on underwriting reverse mortgage loans that assesses whether a borrower can pay property charges over time, including the tax and insurance associated with the reverse mortgage. As of early December, just one lender had adopted the new underwriting process, which, for the first time in the history of reverse mortgages, considers income and credit requirements in order to qualify.
Other reverse mortgage lenders have stated publicly that they will be changing course as well, but with lenders conducting slightly different financial assessments, counselors will need to consider possible variations in their counseling of potential borrowers.
Standard Pending
Eventually, the Department of Housing and Urban Development will make a borrower qualification rule for all lenders to follow, but the rule making is expected to take place during early 2012 and may not be completed until mid-year, according to industry sources.
Until that happens reverse mortgage counselors are aware of the differences and will guide borrowers accordingly. However, under government rule, counselors are not permitted to "steer" a borrower toward one lender or another, regardless of the differences in underwriting. It is up to borrowers to shop around for a lender with whom they can qualify.
HUD is strict about the steering policy so counselors will do their best to arm borrowers with the right questions to ask when it comes to selecting a lender. It may be as simple as asking a lender if they do a financial assessment, and if so, the kinds of documentation they collect. While they can't mention names, counselors can advise borrowers on the information they should seek from loan officers so they can best and most efficiently work through the reverse mortgage process.
"Reverse Mortgage Counseling in 2012" by www.reverse.mortgage
The experts at All Reverse Mortgage® are here to answer your questions! If you have an inquiry about reverse mortgage counseling give us a call Toll Free (800) 565-1722 or request a quote by clicking here »
PS – We also welcome and respond to comments below…
More Posts for 2012: