Why All Reverse Mortgage

®
- Reverse mortgages are all we do.
Compare our impeccable reviews and independent ratings with any competitor. We understand that this loan is about you and your needs. We put you first with superior service and lower costs.
- We are a HUD Approved direct lender.
- We do not work with Brokers which allows us to pass savings on to you.
- We don't hire "celebrity" spokespersons because we do not believe you should have to pay for a lender's expensive marketing budget with higher loan costs.
We are committed to being your best choice. You deserve the lowest price possible and if you feel that you should not pay thousands of dollars more for the same FHA-insured loan, let us show you how we get you the most from your home equity.
14 Years of Excellence
Since 2004 our goal has remained simple; to offer you the best terms accompanied by extraordinary customer service. We maintain an A+ exemplary rating by the Better Business Bureau and we are proudly approved by the Federal Housing Administration as a direct lender. As a NRMLA member we abide by the Code of Ethics & Professional Responsibility in which we pledge to serve you with integrity. Your best interests are our primary consideration.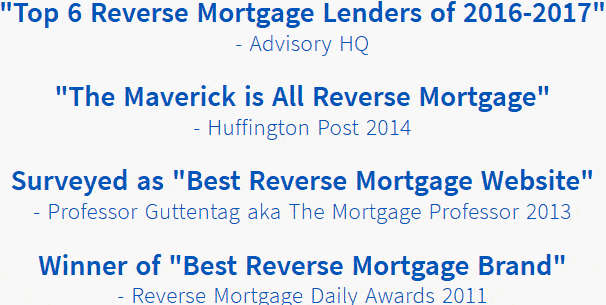 Consistent
5 Star Reviews
Compare us and you will see a clear difference. From customer service to loan terms, we never compromise in giving you a world class experience from start to finish.
Information and Learning Center
If you are new to reverse mortgages, Start Here!
Close
Hi, I'm ARLO and I Love Questions!
All Reverse Mortgage's resident expert ARLO
™
loves to answer questions. No question is too big or small for him or any of our other experts to answer, so please ask away! We will respond as soon as possible.
What is a Reverse Mortgage?
A reverse mortgage is a loan secured by your home that can help you access a portion of your equity to receive tax-free cash without having to make monthly loan payments. No payment is required until the last surviving homeowner leaves, permanently passes away, or decides to sell. It is still your home and is also your responsibility to maintain property taxes and homeowner's insurance.
Since 1989 the HECM - (Home Equity Conversion Mortgage) has been insured by the federal government through the Federal Housing Administration (FHA), a division of the Department of Housing and Urban Development (HUD). Since its inception, the reverse mortgage program has helped thousands of homeowners just like you to safely access a portion of the equity in their home to better enjoy your retirement years.
What Are the Requirements?
At least one homeowner must be 62 years of age
You must reside in the home as your primary residence
Your home must be either a single-family home, two to four-unit owner-occupied home, townhouse, approved condominium unit, or certain manufactured homes
You must attend an educational HUD-approved counseling session by phone or in person
You must continue to pay property taxes and homeowners insurance
Get started with our free guides:
How Much Money Can You Receive?
The amount available to you is formulated based on your age, today's current interest rate environment, and the appraised value of your home or the current lending limit of $679,650, whichever is less.
To receive a formal analysis, call our live experts Toll Free (800) 565-1722, or start with ARLO™, the revolutionary calculator that intelligently finds your perfect loan!
Reverse Mortgage Payment Options
Once you've learned that you qualify for a reverse mortgage and have started working with a lender, you'll be faced with an important decision: "Which is the best way to receive your money?" This choice can depend highly on how you plan to use the funds from your reverse mortgage, or the strategy you're trying to use over time by using your home equity. By choosing the option for receipt of your reverse mortgage funds that best suits hour needs, you can maximize the benefits of the loan for your situation.
Line of Credit
The most popular manner for receipt of reverse mortgage funds is through a line of credit. In many cases, borrowers establish a standby line of credit that they can access only when funds are needed. Another aspect that some borrowers see as a perk is that the line of credit option has a growth feature, which means that the unused balance grows over time, working to maximize your borrowing potential by giving you more available funds to borrow in later years.
A line of credit can be extremely helpful for borrowers who don't necessarily need the funds right away but want to have it as a back-up that gets larger as time goes on, to use for later needs or if unexpected expenses arise in retirement. Learn more about the line of credit »
Term and Tenure Payments
A term payment gives borrowers fixed payments for a specified amount of time. One way to maximize the benefits of a reverse mortgage by using term payments is to establish the payments to delay Social Security benefits. Because Social Security benefits increase the longer you wait to begin receiving them, this is a strategy some borrowers use to maximize their loan.
If you are 65 and want to defer collecting Social Security until you turn 70 (to increase your social security payments), you can establish term payments to augment your income over that 5-year period. The amount you will receive each month in payments is fixed regardless of whether your home value decreases or increases over the next five years.
A tenure payment oftentimes gets confused with a term payment. The similarity is that both allow for fixed monthly payments, but with a tenure plan, it allows for monthly payments if you live in the home as your primary residence. With a tenure payment plan, you will receive the same payment for life, even if the payments exceed the value of your home.
The only way the payments will stop is if you pass away or leave your home permanently (you need to be sure you always pay taxes and insurance when due so that you are not in default of your loan). With both term and tenure payment options, you also have the choice to do a modified term/line of credit plan or a modified tenure/line of credit plan. In both cases, the plans allow you to establish a line of credit and receive fixed monthly payments for either a specified amount of time or for your lifetime in your home.
Lump Sum
A lump sum may be beneficial for you if you have a large payment to make, such as home renovations or medical payments or if you are paying off a large current mortgage and just want to live payment-free. A lump sum allows the borrower to take the loan proceeds all at once. If you choose a fixed rate to take out the initial lump sum, you do have the option regarding how much of your home equity you want to tap into, up to your maximum benefit amount.
For example, a borrower can take out less funds than he or she is qualified to borrow. Say you need some renovations done on your home and you know it will cost around $30,000 but are eligible for an $80,000 loan. You may choose to take the lesser amount in this case.
Do keep in mind that if you used the fixed rate loan and borrowed less than the full amount at closing, you'll need to refinance if you choose down the road to take out more of your home equity. You cannot make subsequent draws on the fixed rate loans. If you pull your funds utilizing a line of credit, you can always access your remaining funds later by requesting another draw from the line.
For Home Purchase
Another opportunity afforded to you with a reverse mortgage transaction is to use the funds to purchase a new home altogether. There are several advantages for senior homeowners using a reverse mortgage for purchase; easier loan qualification guidelines, you don't have to pay cash for the home in order not to have monthly mortgage payments and you get to keep a large amount of money on hand for other needs.
The transaction is completed using funds from the sale of your old home, private savings, gift money and other sources of income, which are then combined with the reverse mortgage proceeds. For borrowers who are looking to maximize their buying potential for a new home, or who want to relocate in retirement, this option can help retirees strategically to achieve these goals.
Reverse mortgage loans enable borrowers to utilize different strategies depending on their circumstances and needs. The one that is "right" is the one that is right for you. For more information to help you determine which payment option might work best for your situation, contact us to learn more or visit the following resources:
Current Interest Rates
Adjustable rates from 2.20%
Fixed Rate

4.25%

(6.09% APR)
Rates as of 10/23/18 Learn all about interest rates and how they affect your available loan and future home equity position at our helpful interest rates page »
Is a Reverse Mortgage Right For You?
Reverse Mortgage loans are not right for everyone. It may surprise you to hear a lender say this, but it is true. If you are looking for a short-term loan you may be better suited for a different type of financing. A reverse mortgage loan can sometimes require closing costs, making it impractical for a short-term solution.
However, for those who wish to remain in their homes and need extra income or cash to do so, the Home Equity Conversion Mortgage may be exactly what you are looking for. Educate yourself or family on the safeguards with our free .PDF guide. We explain what it is, how it works, and provide answers to many frequently asked questions and common misconceptions.
You can also find current articles in our blog featuring articles, personal advice and industry updates. Our blogger and CEO Michael G. Branson has over 40 years banking experience, has been instrumental in educating some of the largest banks on the nuances of this program and its benefits to older homeowners.
Mandatory counseling is one of the first steps which may take place by either phone or in person. The role of the counseling agency is to review your unique financial situations during this private session and explore any alternatives that may be available, such as downsizing, city or state grants, or other alternatives that may be available to you.
Counselors are now required to ask potential borrowers about income, assets, debts, and monthly living expenses to perform a budget analysis. Once you have completed this session you will be provided a counseling certificate which you will need to sign and deliver to us as part of your loan application.
As a lender we must also give you a list of no less than 10 counseling agencies to choose from, 5 of which are mandated by the FHA and include the National Council on Aging. Only after we receive your application and signed counseling certificate can we begin the processing of your loan. To find a HUD approved counseling agency near you, please visit our counseling resource page »
Helpful 3rd Party Resources: