Purchase 2-4 Units with a Reverse Mortgage for Lifetime Cashflow
| | |
| --- | --- |
| | Michael G. Branson, CEO of All Reverse Mortgage, Inc., and moderator of ARLO™, has 45 years of experience in the mortgage banking industry. He has devoted the past 19 years to reverse mortgages exclusively. (License: NMLS# 14040) |
| | |
| --- | --- |
| | All Reverse Mortgage's editing process includes rigorous fact-checking led by industry experts to ensure all content is accurate and current. This article has been reviewed, edited, and fact-checked by Cliff Auerswald, President and co-creator of ARLO™. (License: NMLS# 14041) |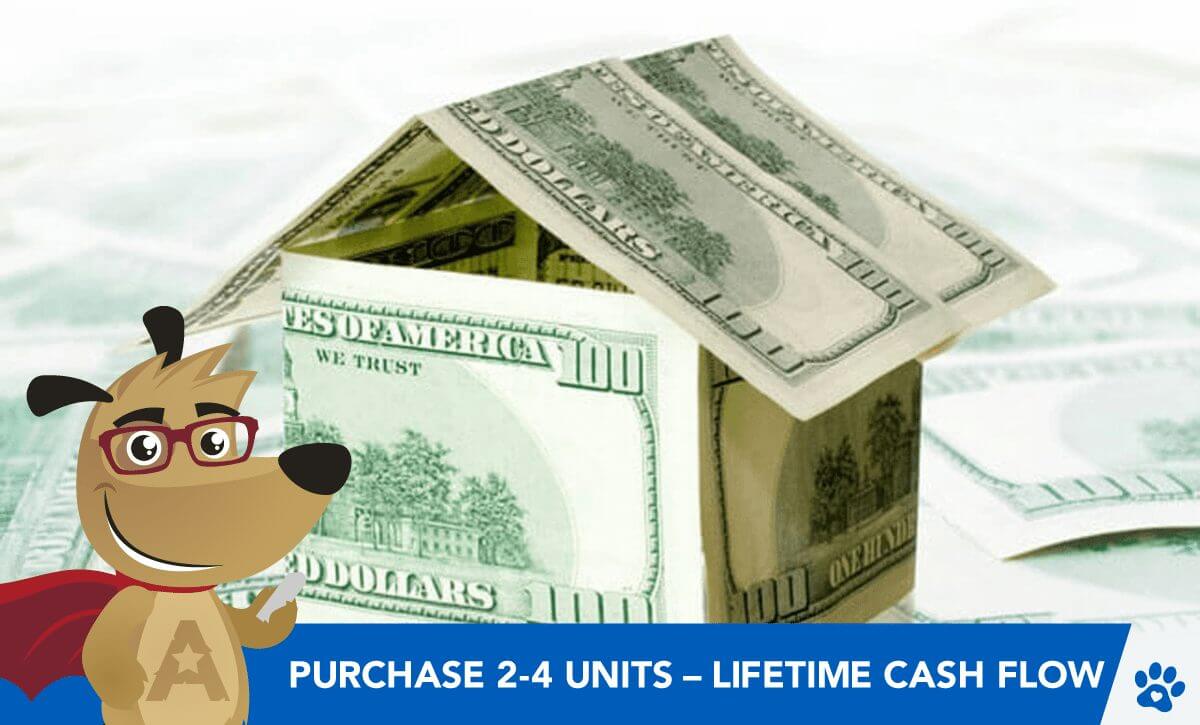 For retirees considering a move in their later years either to downsize or to be near family or friends, there's a government insured loan available that allows them to take out a reverse mortgage and purchase up to 4 units in a  single transaction.
The Home Equity Conversion Mortgage (HECM) for Purchase allows borrowers who are 62 or older to draw down on the equity in their homes over the course of the loan while purchasing a new home.
Contrary to a "forward" or traditional mortgage where the loan balance goes down over time, in a reverse mortgage the loan balance grows, and becomes due when the borrower passes away or moves out of the home.
One requirement of all reverse mortgages is that the home that secures the loan must be the borrower's primary residence—or the home where he or she spends at least six months out of the year.
However, the Department of Housing and Urban Development, which administers the HECM program, allows for reverse mortgages on homes that comprise anywhere from one single unit up to four-unit abodes.
This can be beneficial for borrowers who own multifamily properties that are also inhabited by family members or tenants.
Reverse mortgage basics
A HECM reverse mortgage is a loan insured by the federal government that was designed to help seniors age in place.
By eliminating mortgage payments, senior borrowers can help improve monthly cash flow through this type of loan. Some borrowers wish to begin accessing their home equity much later in life, while others choose to use a reverse mortgage as a retirement planning tool—much earlier.
The reverse mortgage for Purchase can be a particularly useful tool for those taking a longer-term view of their retirement plans.
The HECM for Purchase
This loan type may appeal to those who wish to move to a warmer or more temperate climate, or to a home that is more equipped for aging—whether this means a single-story home or one with other features that are designed for aging in place.
In order to qualify, borrowers must meet the age requirements and must have enough cash from the sale of a previous home or through other means to cover the down payment of the new home purchase. (See how much you may be eligible to borrow by using our reverse mortgage for purchase calculator.)
Purchasing a 2-4 Unit Home with a HECM
The HECM for purchase allows borrowers to purchase homes containing up to four units, as long as the borrower occupies one of the units. Therefore, it's possible to rent the remaining units to tenants and declare the income as rental income.
If you intend to purchase a multi-unit home using a reverse mortgage, you'll want to consult with a tax professional who can advise as to the tax implications of such an arrangement.
For example, say you wish to purchase a four-unit property similar to the one in Oceanside, CA, for $600,0000. If you were 65 years old, you could use a HECM for purchase to buy the building with a down payment of $232,628.
While it might sound like a large down payment, you could expect to collect 3 rental checks each month for an estimated $4,070 per month. Such a transaction could be a big boost to your monthly cash flow.
Another option could be to purchase a 2-unit building similar to this one in Long Beach, CA., for $395,850 using a HECM for purchase. A borrower who is 65 years old could purchase the home using a HECM by bringing a $155,235.85 down payment to closing.
After closing, the borrower could expect to receive anywhere from $1,250-$1,500 per month for the additional unit when rented out.
Additional considerations
While many property types are eligible for this type of loan as specified on HUD's website, the home for purchase must be inhabitable as deemed by a certificate of occupancy or its equivalent.
Newly constructed homes are eligible as long as this certificate has been issued and the borrower must occupy the home within 60 days of the loan closing.
ARLO recommends these helpful resources: 
America's #1 Rated Reverse Lender Celebrating 19 Years of Excellence.