Resolute Bank Reverse Mortgage Review (2023 Update)
Michael G. Branson
, CEO of All Reverse Mortgage, Inc., and moderator of ARLO™, has 45 years of experience in the mortgage banking industry. He has devoted the past 19 years to reverse mortgages exclusively. (License: NMLS# 14040)
All Reverse Mortgage's editing process includes rigorous fact-checking led by industry experts to ensure all content is accurate and current. This article has been reviewed, edited, and fact-checked by
Cliff Auerswald
, President and co-creator of ARLO™. (License: NMLS# 14041)
The reverse mortgage industry in the United States has had to wrestle with some issues related with some new regulatory rules handed down by the U.S. government in 2017 and 2018, and for some companies that had formerly offered loans in the space, the issues that stemmed from these changes to the federally-insured Home Equity Conversion Mortgage (HECM) program caused some companies to exit the market and cease offering reverse mortgages altogether.
One such company that decided to exit the reverse mortgage space was Maumee, Ohio-based Resolute Bank, which was permanently closed shortly after it announced its reverse mortgage exit.
Summary:
Resolute Bank was an FDIC-insured federal savings bank that offered reverse mortgage loans alongside its businesses dealing with other kinds of personal and business financing, in addition to providing routine banking services like checking and savings accounts, and credit and debit cards for individuals and businesses in its local community.
Citing a desire to focus its business endeavors on its own backyard, Resolute exited the reverse mortgage industry in 2019 after the business showed signs of decline the prior year.
The Office of Comptroller of the Currency announced on October 25, 2019 that it was closing Resolute Bank, appointed the Federal Deposit Insurance Corporation (FDIC) as receiver, and nearby Buckeye State Bank acquired all Resolute's assets and depositors.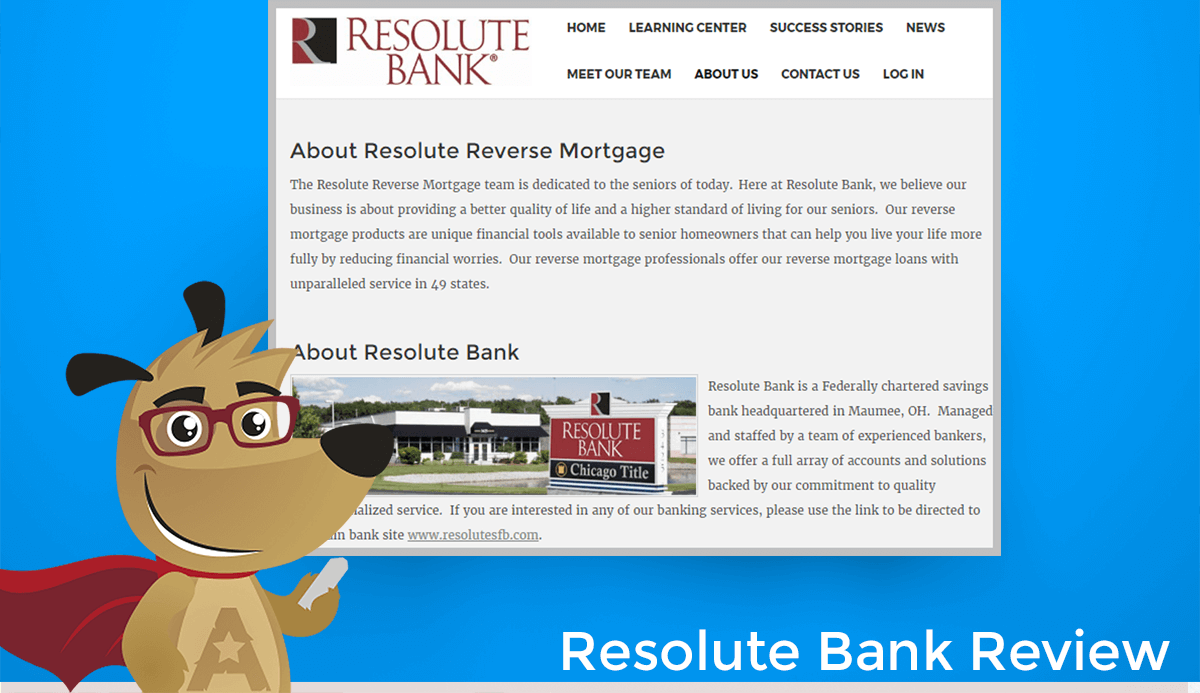 While Resolute was never a major, top 10 reverse mortgage lender in comparison with other companies that had more specific dedication to the reverse product, it did appear to do a respectable amount of business in the space before it began exhibiting some pronounced declines in its reverse mortgage endorsement volume.
By September of 2018, Resolute recorded 261 reverse mortgages originated over the course of the year up to that point.
Comparing the figures to the same point in 2019, however, Resolute's reverse mortgage endorsement figures showed only 90 reverse mortgage originations, a fall of over 66%, coming in at number 27 on a ranking of top 100 lenders tabulated by reverse mortgage market data company Reverse Market Insight.
Why Did Resolute Bank Stop Offering Reverse Mortgages?
Like many other companies that have exited the reverse mortgage space in recent years, the ultimate decision for Resolute to exit the business appeared to have resulted from multiple factors.  According to leadership at Resolute Bank itself, the larger regulation changes being exhibited in the reverse mortgage industry had little to do with the decision for the bank to exit the space.
Instead, the organization publicly cited a desire to refocus its business efforts on its local region, aiming to align its business concerns with the financial needs exhibited by people and businesses in Resolute's more immediate communities.
"We're a small community bank in northwest Ohio," said Resolute Bank president Kevin Rahe to reverse mortgage industry media outlet Reverse Mortgage Daily in late 2019. "Our reverse mortgage division was centered in Henderson, Nevada, and we're really just trying to get back to our core business in northwest Ohio and southeast Michigan. Focusing on our footprint a lot more [is a top priority]."
That being the case, the larger issues that led to a general decline in industry volume – including the lowering of reverse mortgage principal limit factors (PLFs) in 2017, and the addition of a collateral risk assessment that in some cases necessitates a costly second property appraisal in 2018 – may have resulted in Resolute taking a harder look at the overall reverse mortgage business climate, and its own ability to be successful within it.
Will Resolute Bank Bring Back Reverse Mortgages?
Resolute Bank will not offer reverse mortgages again in the future, because the organization was shut down by federal regulators and its remaining assets and depositors were moved to another bank.
While the successor to Resolute, Buckeye State Bank, has not given an indication concerning the potential to enter the reverse mortgage business in the future, many smaller banks have identified reverse mortgages as a potential growth opportunity given the baby boom demographic and the influx of Americans who are ill-prepared for retirement.
Every business needs to make its own individual evaluations about what does and does not work for it, though, and if you're hoping to get a reverse mortgage specifically from Resolute Bank, it may be worth evaluating the other options that are available.  Fortunately, there are several reverse mortgage providers across the country which can serve as viable alternatives, especially depending on the kind of loan you may be seeking.
Where to Get a Reverse Mortgage
There are many active lenders in the reverse mortgage space today — including both banks and non-bank lenders — as well as brokers who can help prospective borrowers navigate the different loan options and interest rates that are available.
A good place to begin is gathering a few pieces of information including your age (and the age of your spouse, if you are married), and your home address so that a reverse mortgage calculator can give a rough estimate of the amount of money you may be able to borrow through a reverse mortgage loan.
If you have a higher-value home, you may also find that a jumbo reverse mortgage could be right for you, but gathering as much information as possible about your current financial situation, and the input of people who may be impacted by your decision, is always a good place to start.
Visit our Reverse Mortgage Calculator ARLO, the All Reverse Loan Optimizer, to help you get started.
America's #1 Rated Reverse Lender Celebrating 19 Years of Excellence.