Use a Reverse Mortgage to Finance Your Next RV Purchase
| | |
| --- | --- |
| | Michael G. Branson, CEO of All Reverse Mortgage, Inc., and moderator of ARLO™, has 45 years of experience in the mortgage banking industry. He has devoted the past 19 years to reverse mortgages exclusively. (License: NMLS# 14040) |
| | |
| --- | --- |
| | All Reverse Mortgage's editing process includes rigorous fact-checking led by industry experts to ensure all content is accurate and current. This article has been reviewed, edited, and fact-checked by Cliff Auerswald, President and co-creator of ARLO™. (License: NMLS# 14041) |
Reverse mortgages are a great way to improve your cash flow during retirement by borrowing against the equity in your home or even to purchase a brand new primary residence.
What you may not know is that if you're in the market for a Recreational Vehicle (RV), you can use a reverse mortgage in place of financing for that too. And you'll ultimately find some benefits that don't come with traditional bank RV financing.
As with any reverse mortgage that is insured by the Federal Housing Administration (FHA), you'll need to be 62 or older to qualify and must adhere to the loan terms including ongoing payment of property taxes and homeowners insurance.
Unlike other loan types, there are no income or credit qualifications. And a relatively new type of reverse mortgage, the Home Equity Conversion Mortgage (HECM) "Saver," comes with fewer closing costs than a standard reverse loan, making it a viable option for some people seeking financing in retirement.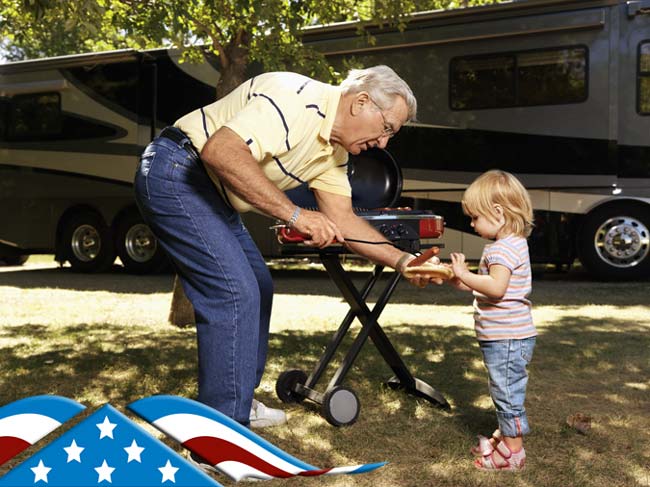 Here's how it works…
Bank Loan Versus Reverse Mortgage
Say you are in the market for alternate housing such as an RV priced at $100,000. You could take the traditional bank lending route with big banks currently offering RV loans under the following terms (subject to change)
20 year fixed term
20% down payment
Rate quote around 4.69%
With a $20,000 down payment, you'll face a monthly payment of about $514 under the current terms quoted by the big banks. In order to qualify for a bank loan, borrowers will need to provide documented income and meet certain credit standards.
But if you have a home that is paid off in full, or you have enough home equity to qualify for a reverse mortgage, you can use the proceeds of that loan to pay for the RV in full.
Reverse mortgage terms (subject to change):
Reverse Mortgage Financing
Rate: 4.99%
Mortgage Insurance Premium: 1.25%
APR: 6.24%
With a starting loan balance of $100,000 to pay for the RV, you could opt to make similar payments you would have made under the bank loan to prevent interest from accumulating.
If you choose not to make any payments, the loan balance will grow to around $186,000 after 10 years. But by making monthly payments to the reverse mortgage, comparable to what you'd pay in monthly installments toward a bank loan repayment, you can reduce that level to remain at around $100,000.
Today's Interest Rate:

4.990%

 

MIP Rate:

1.250%

 

Combined Rate:

6.240%

 

 

 

 

 

 

 

 

 

 

 

Starting Loan Balance at Closing:

$100,000.00

Year

Accrued Interest

Accrued MIP (1.25%)

Loan Balance     

1

$5,135.22

$1,286.38

$106,421.59

2

$5,464.98

$1,368.98

$113,255.56

3

$5,815.92

$1,456.89

$120,528.37

4

$6,189.39

$1,550.45

$128,268.21

5

$6,586.85

$1,650.01

$136,505.07

6

$7,009.83

$1,755.97

$145,270.88

7

$7,459.97

$1,868.73

$154,599.58

8

$7,939.02

$1,988.73

$164,527.34

9

$8,448.84

$2,116.44

$175,092.62

10

$8,991.39

$2,252.35

$186,336.35
By making a fully amortized monthly payment of $730, you can reduce that balance to around $66,000 after the same 10-year period.
Making a 20yr fully amortized payment of $730.00
Starting Loan Balance at Closing:

$100,000.00

Year

Accrued Interest

Accrued MIP (1.25%)

Loan Balance     

1

$4,965.63

$1,243.89

$98,179.52

2

$4,837.87

$1,211.89

$95,469.28

3

$4,698.69

$1,177.03

$92,585.00

4

$4,550.58

$1,139.92

$89,515.51

5

$4,392.95

$1,100.44

$86,248.90

6

$4,225.21

$1,058.42

$82,772.52

7

$4,046.69

$1,013.70

$79,072.91

8

$3,856.70

$966.11

$75,135.72

9

$3,654.52

$915.46

$70,945.70

10

$3,439.35

$861.56

$66,486.61
What's the difference?
The reverse mortgage can offer a few benefits that the traditional financing can't.
First, as a buyer, you'll bring your own funds to the table with your RV dealer. As a cash buyer, that could mean negotiating power.
Second, you won't have to tap into retirement savings or other funds to make the down payment on the RV.
And finally, the reverse mortgage doesn't require income or credit qualifications—you simply must own your home or have a substantial amount of equity, and reside in that home.
Are you thinking about an RV purchase for retirement? Contact us at

Toll Free (800) 565-1722

 or request a quote to find out more about using a reverse mortgage to help with the purchase. 
America's #1 Rated Reverse Lender Celebrating 19 Years of Excellence.