2011 Reverse Mortgage Pros and Cons
2011 is fast approaching and people are still asking about the reverse mortgage pros and cons. We have seen some changes over the past year and it's time to update some of the reverse mortgage pros and cons that were reported in our last article. HUD has made some changes that many feared and some have helped, some have made things a bit tougher. We just want to take a look at the new reverse mortgage pros and cons and list some of the things that these borrowers have seen throughout 2010 and can expect to experience in the year ahead.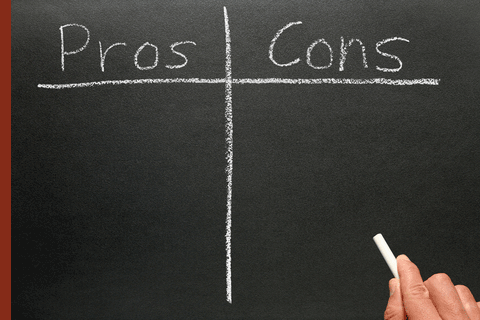 Appraiser Independence (AMC's)
As always, we will start with the reverse mortgage cons. In 2010, HUD implemented Appraiser Independence which is actually an issue with all HUD loans, not just reverse mortgages, but bears mention here. In an effort to remove appraisers from "undue pressure" from borrowers and mortgage loan originators, HUD followed FNMA and FHLMC's previously enacted lead of HVCC and called it Appraiser Independence.
The program intended to give appraisers the "freedom" to give honest evaluations, has backfired and has caused quite a bit of grief for reverse mortgage borrowers. Originators now must order appraisals through an independent Appraisal Management Company (AMC) who then farms out the assignment to the appraiser who will actually complete the report. The real con for reverse mortgage borrowers is that many times the appraiser will receive half or less than half of the appraisal fee and therefore, many of the most senior appraisers have left the business or are refusing to take on assignments. Sometimes the system employed by the AMC is one that "farms out the assignment to the first responding appraiser sending the hungriest and often least experienced or "out of the area" appraisers to appraise the homes.
Originators are no longer allowed to intervene or challenge appraisers on values and all rebuttals must be directed to the AMC who then send the rebuttal back to the appraiser who can either work on the assignment again or dig his/her heels in and refuse to amend a value. Unfortunately, most often the appraiser refuses to amend his/her value. Reverse mortgage borrowers do not understand why their appraisals are coming in low or with information with which they do not agree and cannot understand why the originator cannot get the report changed. Unfortunately it's all due to the layers that HUD implemented and the people working with the borrowers cannot change HUD's program. That's why this has really been a reverse mortgage con for 2010 and will continue for 2011.
Falling Home Values / Foreclosures
A second reverse mortgage con for 2011 is the fact that in many markets values have still not started to rise and foreclosures are still a looming issue. This is one cloud with a silver lining though. This reverse mortgage con comes with a reverse mortgage pro for those who already received their reverse mortgages. The San Francisco Chronicle did an article titled Reverse mortgage safe from plunging home value on October 3rd outlining something we've been illustrating to borrowers and debunking other articles with for quite some time.
Many borrowers who took out reverse mortgages locked in equity and equity lines before values fell or continued to fall and are much better off today as a result of that action. It is true that borrowers receive all their funds on a non-recourse loan and after the loan is completed, if the borrower has remaining funds in their equity line of credit, even if property values fall below the original loan amount, unlike a traditional Home Equity Line of Credit through a local bank, the borrower is still guaranteed to receive all their funds as long as they live in their home.
New Counseling Protocol
The next groups to be reported on are the items that we have to label as both pro and con for reverse mortgage borrowers due to varying provisions or how it affects different people. The first issue is that HUD changed their counseling protocols in 2010 that will affect reverse mortgage borrowers going into 2011. Many borrowers view the counseling as intrusive and unnecessary and unfortunately, we sometimes run into counselors who are not familiar with the current lending market but still try to give lending advice.
HUD has stepped up the counseling required and now borrowers not only have to attend the counseling session and discuss their personal finances, but will be required to take and pass a test! Many borrowers with whom I've spoken are angry about this requirement and have told me that they feel that HUD must think them incapable of making decisions due to their age and that frustrates them. HUD does not view this as an issue of age, but rather is acknowledging that reverse mortgages are complex financial transactions and seek only to protect borrowers. You may review this as a pro or a con, depending on your viewpoint, if you are either a reverse mortgage borrower or the family member of a reverse mortgage applicant.

New Insurance Factor & Higher Proceeds
The annual mortgage insurance renewal was increased to 1.25% from .50%. That's 2 1/2 times the amount of the old renewal premium or 150% increase. Since the mortgage insurance is added to the balance with the interest on a reverse mortgage that is a con for 2011. However, when HUD made the changes, they also lowered the interest rate floor which one of the factors that determines the amount of money a borrower will receive under the program.
At the old floor, borrowers on loans of 4.99% and 5.56% both received the same amount of money. Now that HUD lowered the floor, borrowers receive much more money at the 4.99% interest rates. Therefore, the reverse mortgage pro is that borrowers looking for more money to pay off existing liens, etc. can now get more money on the lower interest rate loans than ever before.
New HECM Saver
The last category is the reverse mortgage pros for 2011 and there are some good ones to report. HUD also released the HECM Saver program in October of 2010. This is a good program for borrowers who looked at the reverse mortgage loans and just didn't like the up-front costs and leading the way in those costs was the HUD Mortgage Insurance Premium. HUD's Up-Front Mortgage Insurance Premium of 2% of the appraised value of the property or the HUD lending limit, whichever was less, could run as much as $12,510 alone.
Under the HECM Saver program the borrower receives less money, but in recognition for the less risk, HUD only charges .1% so that same loan would have a mortgage insurance premium of just $62.55 as compared to the old premium of $12,510.00. Borrowers who wanted to get a line of credit or didn't want all the funds anyway are delighted with such a large reduction in fees. This program can be done on the adjustable and fixed rate options.
Lower Closing Costs
And that brings us to our next reverse mortgage pro – current costs. Lenders are paying more fees for borrowers making reverse mortgages more affordable than ever before. Loans that only a year ago could cost as much as $15,000 to $20,000 or more can now be made at a fraction of that cost and many times at little or no cost. Lenders' ability to pay costs for borrowers is dependent on the value these loans bring to them upon their sale in the secondary market so no one can say how long the lenders can continue to pay costs for borrowers, or to what extent. There are other things that bring borrowers more money than borrowers have historically gotten and things like the elimination of servicing fees on most products (which also means no servicing fee set asides) means more money in the borrowers' pockets. (Take a look at our updated calculator to see these changes)
$625,500 National Limit Extended for 2011
Congress also passed the extension of the temporary increase in the lending limit which is a big reverse mortgage pro for all borrowers with homes valued at more than $417,000. Prior to 2008, HUD had limits set by lending areas with all but special higher cost areas coming in at $362,790 or lower. The Housing and Economic Recovery Act of 2008 set a national limit of $417,000 and then we have been working under a temporary increase of that limit to $625,500 since February of 2009 under the American Recovery and Reinvestment Act.
To sum it up, 2011 brings a mixed bag of reverse mortgage pros and cons but the program still remains a viable financial tool for homeowners age 62 and over and the biggest positive is that the costs have gone way down and right now it looks like they should stay they way in 2011. This allows people to finally put the word "affordable" or "low cost" with the phrase reverse mortgage and that's one of the biggest pros for reverse mortgages in 2011.
The experts at All Reverse Mortgage® are here to answer your questions! If you have an inquiry about reverse mortgage pros and cons give us a call Toll Free (800) 565-1722 or request a quote clicking here »
PS – We also welcome and respond to comments below…
Recommended Reading…
5 Comment(s)
| | |
| --- | --- |
| ed11/4/10 7:00pm | one day, my spouse may need to use reverse mort. we, at this moment, are very shy concerning the program, and hope that in the future, it is more clear. right now, as she says, it (reverse mortgage) is as clear as mud! |
| | |
| --- | --- |
| Philip Webster 11/24/10 10:59pm | Thanks for the input, I still intend to do a reverse mortgage but my renovations are taking longer than I expected but you are in line for the business -thanks Phil |
| | |
| --- | --- |
| Georgia3/8/11 11:16pm | Because of our financial situation,and we have no lien on our home, we really need the reverse mortgage. The more I read the more confused I get. Like ed"s wife it"s clear as mud,but if we decide to go for it, you have our business too. |
| | |
| --- | --- |
| carolyn Hill5/24/11 1:39am | I am looking for the right lender for a Reverse Mortgage. I have felt I was being cheated in the pass from a lender, so I decided against it, because of high fees, Interest rate, insurance premium, and closing fees. and ect. Also I undersstand in Sept 2011 there will be, once again changes in the Reverse Mortgage. Some are saying it may closed down permanently, is this true? Also, HUB & FHA are now investigating 3 of the top lenders dealing with mortgages. Will that interfere with the Reverse Mortgage changes already set? What is the interest rates that is sat at this time? I think the Reverse Mortgage Saver is a great Idea. it does help bring down the cost and fees that is being charged from some lenders. I think the reverse mortage is a great Idea for Senior Citizens, it should be fair to all. THANK YOU; |
2011 Reverse Mortgage Pros and Cons By Mike Branson – Add me to your circles
| | |
| --- | --- |
| karen 9/26/11 10:40am | REVERSE MORTGAGE IS GREAT. MY HUSBAND GOT ON IT, HE WAS 65; I AM NOW CHANGING THE REVERSE MORGAGE,SO I CAN BE ON IT ALSO. I JUST TURNED 63. YOU BOTH HAVE TO BE 62 FOR BOTH NAMES TO BE ON THE REVERSE MORTGAGE. TAKE AVANTAGE OF YOUR EQUITY,IF YOU PLAN ON STAYIN IN THE HOME FOR THE REST OF YOUR LIFE. LIVE FREE FROM RENT.ALL YOU HAVE TO PAY IS TAXES AND INSRUANCE ON THE HOUSE AND MAINTAIN IT. THANKS A SATIFIED CUSTOMER. SOMETIMES IT PAYS TO GET OLD. KAREN |