2017 Reverse Mortgage Limit Increased to $636,150
FHA Increases HECM Loan Limit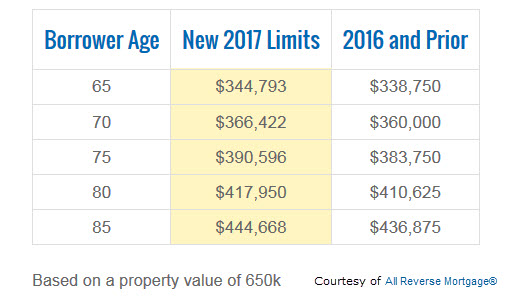 The maximum claim amount for FHA-insured Home Equity Conversion Mortgage (Reverse Mortgage) will increase from its current $625,500 limit to $636,150 in 2017, according to Mortgagee Letter 2016-19 published today by the Department of Housing and Urban Development.
This new MCA – which is equal to 150 percent of the Freddie Mac national conforming limit of $424,100 – becomes effective for case numbers assigned on or after January 1, 2017 and will last through December 31, 2017.
The $636,150 limit also applies to the Freddie Mac high-cost exception areas, which include Alaska, Hawaii, Guam and the Virgin Islands.

NRMLA Comments on Proposed Condo Rule
NRMLA supports the Department of Housing and Urban Development's efforts to modernize its condo approval and recertification rules, but seeks further clarification and refinements on a range of issues, including single-unit and site approvals, owner occupancy thresholds and reserve requirements, according to comments submitted this week.
In its proposed rule, published on September 28, HUD limited single-unit, or "spot" approvals, to a range of 0% to 20% of the total number of units in a project, with the exact percentage to be determined in its final rule. "We request that HUD clarify and detail the tracking mechanism to be used by mortgagees to determine the number of Single-Unit Approvals in a project so as to ensure compliance with the prescribed range for such approvals," said NRMLA.
The Association also believes the 10% reserve requirement is "excessive" and HUD should consider lowering this amount. "If an association has insurance in place for hazards with 100% replacement cost, then ostensibly the building would be covered for any major hazards or emergencies," said NRMLA.
Source: NRMLA
Related:
2017 Reverse Mortgage Limit Increased to $636,150
(

30

votes, average:

4.97

out of

5

)
How do you rate this article?