Kosher Reverse Mortgage for Veterans by Jack Guttentag
| | |
| --- | --- |
| | Michael G. Branson, CEO of All Reverse Mortgage, Inc., and moderator of ARLO™, has 45 years of experience in the mortgage banking industry. He has devoted the past 19 years to reverse mortgages exclusively. (License: NMLS# 14040) |
| | |
| --- | --- |
| | All Reverse Mortgage's editing process includes rigorous fact-checking led by industry experts to ensure all content is accurate and current. This article has been reviewed, edited, and fact-checked by Cliff Auerswald, President and co-creator of ARLO™. (License: NMLS# 14041) |
We had a "unique" caller leave us a message who questioned us on an endorsement we had received from Jack Guttentag, known to many as the Mortgage Professor.
Seems she felt that this was a scam and she contended that Guttentag meant good day in German and that this meant that it could not be Jack's real name or that he could not be a real person as a result.
This lovely lady, in her profanity laced rant ended with an "F-bomb" because she felt that we were trying to pull the wool over her not so delicate eyes!  Well, we thought this might be a very good opportunity to introduce Jack to the reverse mortgage public for those who did not know him.
I want to assure everyone that Jack is a real individual, not some made up character that we decided to invent in order to try to fool borrowers.
Furthermore, when Jack rated our website, we were not aware that he was in the process of rating websites or that ours was even under consideration.  We had no advance knowledge, Jack, being the thorough student that he is, studied sites at his own discretion and rated ours the best.
Jack M. Guttentag is a Professor Emeritus at Wharton, a prestigious School of Business in PA.  Jack was born in December of 1923 and at the ripe old age of 95, he is one of the foremost experts in financial products and has been concentrating on reverse mortgages especially since 2014.
He has written many books and articles on topics ranging from The Mortgage Encyclopedia to what are reverse mortgages, how to shop for reverse mortgages, qualifying for reverse mortgages and the "Kosher Reverse Mortgage".
Creator of Kosher Reverse Mortgage for Veterans
Jack is known for being a tremendous consumer advocate and an educator, seeking to help seniors navigate their way through the reverse mortgage waters.
But even though he has been looking hard at the reverse mortgage programs, Jack has kept busy on other mortgage topics as well.
A look at his website shows that his recent articles cover a wide range of topics and are not limited solely to reverse mortgages for veterans.
As mentioned, Jack has his specialties in the Kosher Reverse Mortgage and Early payoff of your mortgage as highlights on his website.
Jack has been offering advice to consumers on mortgage related issues for quite some time on all mortgage programs including FHA loans, conventional financing and how to build equity faster by paying off your mortgage loan faster.
Jack has not solely used reverse mortgages as his one-stop solution but rather has analyzed a myriad of programs through the years and advises borrowers when a reverse mortgage is right for them and when it is not.
We believe this may be why Jack gave All Reverse Mortgage, Inc. the endorsement that he did.  We have also always believed that the reverse mortgage is not right for everyone.  It must be right for your individual circumstances.
According to Wikipedia, Jack has performed some major research on financial reform for banks, the Federal Reserve, Insurance Firms and other groups as well as his work with consumers directly.
Jack also served as the Chief of Domestic Research Division of the Federal Reserve Bank of New York as well as in many other impressive financial positions in his career.
Jack's resume is extensive and extremely impressive.  The fact that he is still going strong at 95 years old is a testament to his will.  As previously stated, we only became aware that Jack was rating reverse mortgage sites by receiving his critique of our website.
We were honored to have him speak so highly of it.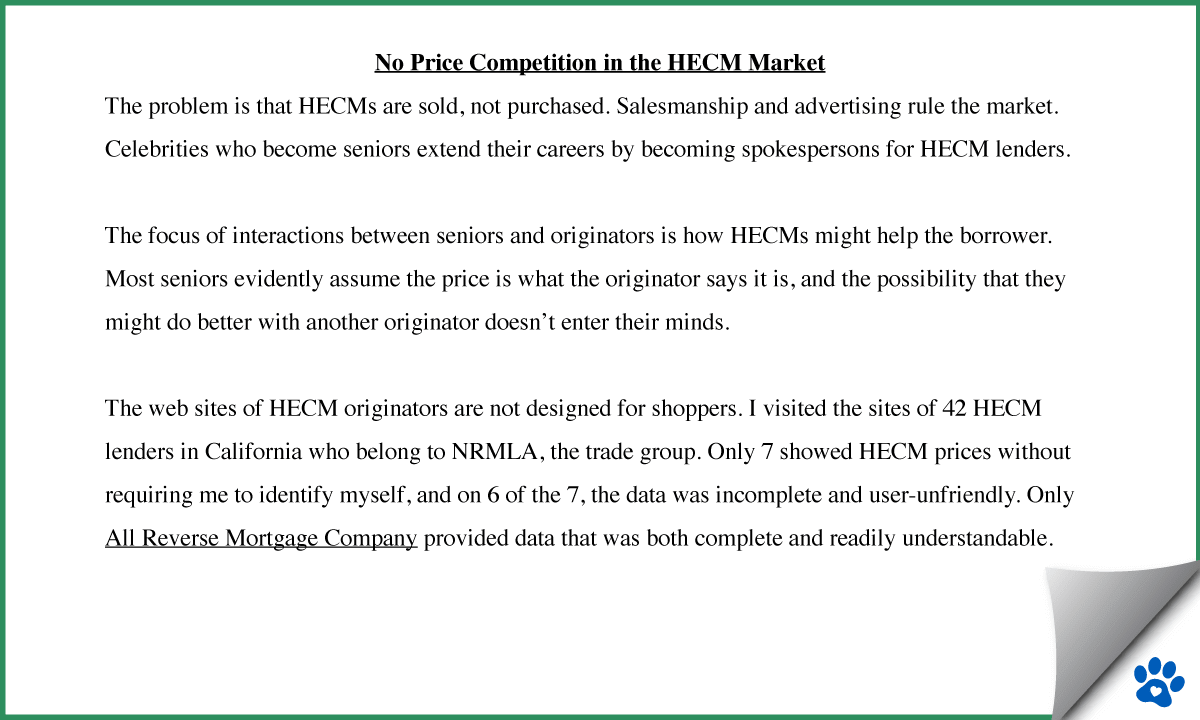 It was always our goal to make the site user friendly and to allow borrowers to find the information they needed without any obligation.  It was an honor to have the Mortgage Professor himself recognize the site.
We continue to this day to add as much new information as we can, to answer borrowers' questions and to keep the flow of information available without obligation to consumers.  This was our goal before The Mortgage Professor recognized us and it remains the same today.
To our sour caller, I want to apologize if our mention of Jack in any way upset her, but Jack is not only a real person, but quite an impressive individual at that!  A simple Google Search will reveal that Jack is highly acclaimed and widely interviewed/quoted by many.
Jack Guttentag Recognized by Forbes, Yahoo, Huffington Post
When you have Forbes, Yahoo Finance, Huffington Post, Daily Herald and many other publications interviewing you and quoting you, I would say that you are probably a real live human being!
We were and are proud of the fact that a man who seeks to help seniors picked our website and named it as the best website for seniors to use, giving them the most information.
We strive to still give borrowers the ability to find as much information as possible, use calculators for not only the HUD Home Equity Conversion Mortgage (HECM or "Heck-Um") but also proprietary & jumbo reverse mortgages and articles and blogs with extensive available information, all in one place.
The information is always available without obligation or having to supply personal information – we never ask borrowers to supply a social security number before you apply for a loan.
We never pressure borrowers and it really is a shame that the woman who called and left a profanity laced message, did so based solely on her not knowing Jack Guttentag and she didn't take the opportunity to do a little research before she came to the conclusion she did.
We understand that borrowers are a little wary in today's times.  However, with the amount of information available on the internet alone, borrowers can research so much.  Check lender ratings, we are proud of our ratings with the Better Business Bureau and other consumer rating sources that cannot be "bought."
Being cautious is not a bad thing, but if you have a question, give us a call and ask, we will be happy to answer any questions you may have.  Just please don't leave us a profanity laced message because you don't believe something you haven't checked yet – it's not very nice! ;>)
America's #1 Rated Reverse Lender Celebrating 19 Years of Excellence.
Kosher Reverse Mortgage for Veterans by Jack Guttentag
(

29

votes, average:

5

out of 5)