Who Gets the Most Out of Reverse Mortgage?

By

Michael G. Branson, CEO
Edited by

Cliff Auerswald
Updated October 9, 2023.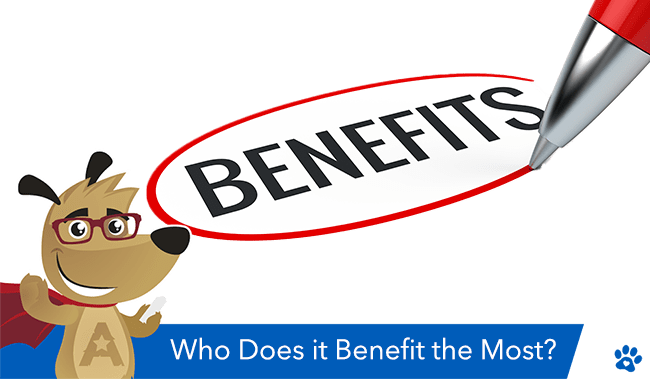 Reverse mortgages offer a unique financial solution for individuals, especially seniors, looking to tap into the equity of their primary residence. Unlike traditional or "forward" mortgages, reverse mortgages don't require monthly mortgage payments. The ability to borrow money without the burden of a monthly payment obligation separates the reverse mortgage from any other type of financing option.
Below, we delve into who benefits the most from reverse mortgages, plus their unique benefits and suitability as a financial product.
Meet the expert
Who benefits the most from reverse mortgages?
Seniors who stand to gain the most from a reverse mortgage typically fall into the following categories:
People seeking extra monthly income
For a retiree living on a fixed income, a reverse mortgage can provide a much-needed source of additional monthly funds to supplement their fixed income, whether a Pension or Social Security.
The reverse mortgage has a payment plan option that is called a "tenure" payment plan. The tenure payment plan is for life as long as the loan is in good standing. To keep the loan in good standing, a borrower must live in the property as their primary residence and maintain the taxes and insurance on the home. This payment plan provides the borrower with a guaranteed monthly payment that they can count on to increase their monthly cash flow above their fixed income.
People needing to fund home improvement projects
A reverse mortgage line of credit can be used at the borrower's discretion to fund several home improvement projects. Whether renovations are to modernize the home and increase its value or make it more functional for the homeowner to age.
People who need help covering medical costs
Seniors with medical costs not covered by insurance often look to the reverse mortgage to fund those expenses. One such example would be the significant expense of in-home care. Seniors who do not wish to leave their home but require regular assistance can utilize a reverse mortgage to access the additional funds necessary to cover these expenses.
People looking to reduce their housing costs
Many seniors still have a traditional mortgage on their home with a mandatory monthly mortgage payment that is too difficult to afford as they approach retirement. A reverse mortgage is an excellent option for these homeowners when they can get enough funds from the reverse to pay off their existing mortgage. By doing this, they can continue living in their home, with the mortgage payment they previously paid being eliminated, making their current home more affordable.
People looking to have more cash available
As everyone knows, unexpected expenses always arise. Whether medical, home repairs, auto repairs, etc. Access to a line of credit via a reverse mortgage provides significant peace of mind to a senior homeowner, knowing that they have funds available to cover these unexpected expenses without adding additional obligations to their monthly budget or, worse, being unable to afford them.
» Wondering what happens to your reverse mortgage after death? Get all the answers.
Benefits and suitability of reverse mortgages
Several benefits come with a reverse mortgage; one of the most significant benefits is the absence of a mandatory monthly payment. Traditional or "forward" mortgages have a mandatory monthly payment for a specified time. With a reverse mortgage, the interest on the loan accrues on the balance and is not repaid until the loan reaches maturity. A reverse mortgage only reaches maturity when the last surviving borrower or eligible Non-Borrowing Spouse passes away, vacates the property permanently, or if the home is sold.
The reverse mortgage is most suitable for homeowners looking to remain in their home but see a need or benefit of having additional funds available. They do not want to have the burden of monthly mortgage payments in their monthly budget.
To determine if you're a suitable candidate for a reverse mortgage, consider the following criteria:
Your age:

For the Home Equity Conversion Mortgage (HECM) insured by the government, you must be at least 62 years of age, and for non-government-insured reverse mortgages, depending on the state you live in, you can sometimes be as young as 55.

Your current equity position in your home:

A reverse mortgage requires no monthly mortgage payments, and therefore, the loan-to-value you can borrow is lower than a traditional mortgage, where you must make mandatory monthly payments.

Your retirement plans:

A reverse mortgage is designed to be the last loan you will ever need on your home. However, if your retirement plan involves a relocation, there may be better options than obtaining a reverse mortgage on your current home due to the fees involved with obtaining the loan.
Additionally, various resources (such as training videos, printed materials, and even a reverse mortgage calculator) help homeowners understand the intricacies of reverse mortgages and determine if this financial tool fits their needs.
» Looking for a lender? These top lenders currently offer reverse mortgages.
Fixed income and retirement planning
Retirees often accumulate substantial home equity over the years, but it's practically untouchable without a reverse mortgage. Moreover, traditional home loans require monthly repayments, which can strain a retiree's budget. With a reverse mortgage, a retiree can access their home's equity without needing immediate repayment, providing a crucial source of financial flexibility.
Here's how a reverse mortgage can contribute to a more secure retirement plan:
Payment-free access:

Ultimate peace of mind knowing you have access to a guaranteed line of credit that you can borrow from without having to make monthly payments once you access those funds.

Debt reduction:

Proceeds from the loan can be used to pay off debts, freeing up existing income and improving overall financial stability.

Funding various needs:

Reverse mortgage funds can finance home improvements, healthcare expenses, vehicle purchases, travel, and other essential expenses, enhancing your quality of life.
Reverse mortgages and homeowners with significant equity
The equity position a homeowner has in their home is vital to how the reverse mortgage will benefit them. The more equity you have in your home, the more funds you can access from a reverse mortgage. Those who own their home outright will access the most possible proceeds from a reverse mortgage loan because there will be no existing mortgage to pay off.
» Is it possible to get out of a reverse mortgage? Yes, and here's how.
Age and long-term planning
Age is a significant factor in determining who can benefit the most from a reverse mortgage. The older the borrower, the higher the percentage of loan to value they can borrow. This is due to life expectancy. The younger you are, the longer your life expectancy will be, resulting in more interest accrual over the life of the loan.
Whether you are a younger borrower or an older borrower, your long-term plans will be important to consider how you use a reverse mortgage and whether it is the right solution for you:
The time frame of your retirement:

At what age are you planning to retire, or are you already retired? Are you taking Social Security at 62 or age 70? How much money per month do you need realistically, and do you have the funds to accomplish that without getting a reverse mortgage? If you plan to retire closer to 62 but wish to delay Social Security until age 70, you are going to put a strain on your existing assets once you retire.

Preserving existing assets:

Retirees may have liquid assets that generate income. Depleting those assets will reduce the income generated from those assets. Obtaining a reverse mortgage allows them to use their home equity for additional funds to cover expenses without depleting these valuable assets.

Long-term healthcare:

If one spouse requires long-term healthcare, a reverse mortgage can cover those expenses while safeguarding existing assets for the surviving spouse.
Debt management and financial flexibility
While the proceeds from a reverse mortgage can be used for various purposes, paying off debts can be particularly beneficial in specific scenarios.
Here's how a reverse mortgage can help you manage your debt:
Debt elimination:

Reverse mortgage proceeds can be used to pay off your consumer debts. You can eliminate credit card balances with extremely high interest rates, auto loans, and other installment debts.

Foreclosure prevention:

For seniors on a fixed income, traditional mortgage payments, real estate taxes, and insurance can be challenging to keep up with. A reverse mortgage can replace the existing mortgage, eliminating monthly payments and reducing the

risk of foreclosure

.

Improved quality of life:

Using reverse mortgage proceeds to pay off other debt drastically improves your monthly cash flow because the reverse mortgage requires no monthly payment.
Embrace financial freedom with reverse mortgages
Reverse mortgages are a gateway to financial freedom and security. These versatile tools can help you unlock the potential of your home equity while offering peace of mind and financial flexibility. So, whether you want to enhance your retirement, manage debts, or enjoy the fruits of your hard-earned home equity, a reverse mortgage may be the key to achieving your financial goals.
» Get current reverse mortgage rates in real-time here.