10 Tips for Seniors on Fixed Income to Help Save Money

By

Michael G. Branson, CEO
Edited by

Cliff Auerswald
Updated October 9, 2023.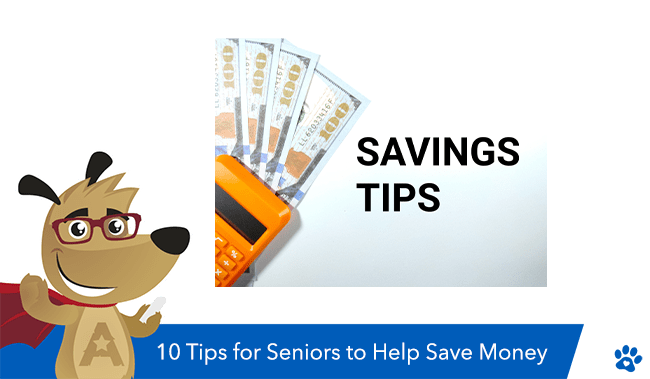 As expenses increase, those on fixed incomes will feel increasing stress levels. Additional expenses such as medications and healthcare can also increase as someone ages. At the same time, a mortgage, car payment, or credit card debt may have been established when income was steady and now can't be afforded with the current limited fixed income. In fact, around 44% of Americans on fixed incomes are still paying off their mortgages.
Seniors are looking at less ability to earn; jobs may be fewer, and seniors may simply not be able to work as much as they once could—younger age groups can usually get new and even multiple jobs to handle their debt load successfully. Thus, seniors must plan to adjust their debt loans early as fixed income begins. However, you can save money in many ways to help widen the gap between your fixed income and your monthly expenses.
» Want a higher monthly income without saving money? See our ultimate guide to reverse mortgages
Meet the expert
4 ways to save money on essentials
1. Reduce your utility bills
Implementing the following strategies can help reduce the typical utility costs such as water and electricity:
Keep your thermostat closer to outdoor temperatures

Review the viability of solar panels with state government grants

Water lawns less or recycle rainwater with storage tanks

Lower shades during the day in the summertime to lower inside temps

Do fewer laundry loads

Be sure to use the dishwasher only when full and run the quickest settings
» Learn more: Reducing utility bills with reverse mortgages and solar panels
2. Use government-funded healthcare
Many states offer specific medical cost reduction programs to seniors. Check your eligibility for special programs through Medicare to receive help with medications and over-the-counter personal care items. Your local clinic can help you take advantage of these particular plans.
» Don't get caught out: Learn how reverse mortgages can affect Medicaid and SSI benefits
3. Use money-saving grocery hacks
There are many ways to save money on groceries, from magazine or newspaper coupons to buy-one-get-one-free deals. Additionally, Medicare and other state-lead programs may assist with groceries, while food banks and churches can also help you get many essential grocery items.
4. Use less private transport
Most counties provide some kind of public transportation for seniors. Giving your municipality a call can be a valuable source of information. At the same time, the clinics and churches that often help with groceries may also have transportation programs for essential trips.
4 money-saving housing and lifestyle considerations
1. Find more affordable housing
Placing a call to your city and/or county offices can be the first step to finding special housing options, and many non-profit agencies specialize in affordable housing.
2. Explore less costly leisure activities
Usually, senior citizen centers like YMCAs in most areas offer many free activities planned especially for seniors.
3. Consider downsizing
Downsizing can be difficult at first, but it's important to remember that a better quality of life is the goal and can outweigh the negative aspects of selling or giving away some of your material possessions.
You might enjoy the new situation once you make the move and find that your day-to-day life is more manageable! Although the cost of some centers can be very high, financial assistance programs like Medicaid can help with funding and administrative challenges.
4. Make a budget and stick to it
A budget can help you ensure that your basic needs are always met while showing you exactly how much you have to spend on your amenities.
When creating your budget, remember these three rules:
Before allocating any funds, explore all the financial assistance available for housing, drug costs, and groceries.

Take care of your needs before your wants.

Allocate some of your funds to leisure, and don't spend any more!
2 ways to ensure long-term financial security
1. Senior-suitable investment opportunities
One of the best investment strategies for seniors is using your home's existing equity. Leveraging strategies like reverse mortgages can give you access to extra cash that can be invested in profitable markets like real estate or used to pay off high-interest debt, helping you to continue living in your home with less stress.
Additionally, low-stress part-time jobs—like librarians or non-profit agency work—are often available to seniors and can supplement a fixed income.
» Learn more about the different reverse mortgage payment options
2. Be wary of scams
Unfortunately, seniors are generally more susceptible to falling victim to the rapidly evolving nature of scams. Avoiding them all can be difficult, but here are some tips:
Banks and mortgage companies will never ask for personal information such as account or social security numbers; only scammers will.

Emails are an easy access point for scammers. You should ignore all emails with poor grammar that come from generic domains. Anyone (including scammers) can create a Gmail address for free, while professional companies will pay for a custom domain that matches their brand. Check the sender's email address from your Gmail account; a legit one might say "accounts@wellsfargo.com" while a fake one might say "accounts.wellsfargo@gmail.com".

If you're unsure about the person you're in contact with, you don't have to continue the conversation! There's nothing stopping you from hanging up the phone and contacting a relative who can help. A legitimate business may contact you later, allowing you to research their information or check with knowledgeable relatives. At the same time, a scammer will likely move on to the next victim instead.
Don't be afraid to ask for help!
One of the biggest pitfalls you might face when trying to save money is trying to manage it yourself when you need help. Dozens of agencies, churches, and programs specialize in helping seniors on fixed incomes better manage their funds.
» Need more info? Reach out to a qualified reverse mortgage lender or continue your journey learning how reverse mortgages work.