Is a Reverse Mortgage Worth It? 4 Things to Consider

By

Michael G. Branson, CEO
Edited by

Cliff Auerswald
Updated November 30, 2023.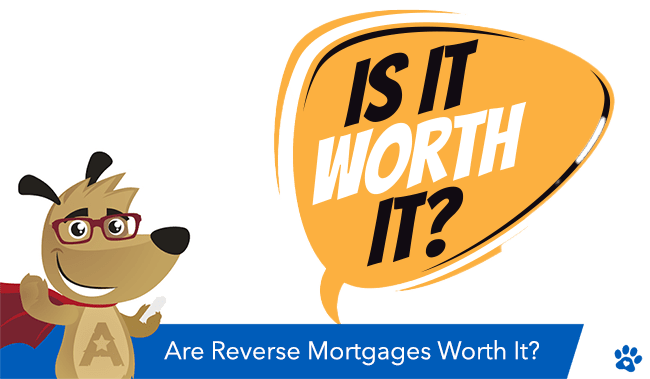 Have you ever considered the idea of getting a reverse mortgage? Have you heard mixed opinions from others on whether or not they are beneficial to the consumer?
Below, we take a closer look at reverse mortgages, their pros and cons, and the factors you should consider when deciding if they're worth pursuing.
This includes:
Eligibility and requirements

Your long-term goals

Impact on your home's equity

Interest rates and fees

Alternative options
Meet the expert
What is a reverse mortgage?
A reverse mortgage is a loan that works in "reverse" of a traditional or "forward" mortgage. Instead of making a monthly payment every month over a specified period, a reverse mortgage allows you to borrow against your home without the burden of a mandatory monthly mortgage payment. Interest on the loan is added to the balance, so the balance does increase over time.
Pros
No monthly mortgage payment is required

Reverse Mortgage proceeds can be used for virtually anything

Guaranteed line of credit on the Home Equity Conversion Mortgage (HECM) program

Non-Recourse loan - you can never owe more than the value of the property

No impact on Social Security or Medicare Benefits
Cons
Reverse Mortgages can have higher closing costs than traditional loans

Can impact needs-based programs

Increasing loan balance can impact the equity position of the home
» Reverse mortgages aren't for everyone: Explore the pros and cons further
1. Eligibility and requirements
To be eligible for a reverse mortgage, you must be at least 62 years of age for the HECM program (some private programs go as low as 55 in certain states), the property must be your primary residence, you must be able to meet the financial assessment requirements and credit criteria as well as have a property that meets the program guidelines.
When you have a reverse mortgage loan, as the property owner, you are responsible for the timely payment of real estate taxes and homeowners insurance premiums. Failure to do so can result in the loan being called due and payable.
The property must remain the primary residence of at least 1 of the borrowers throughout the loan. If you plan to relocate from your current residence, a reverse mortgage is the best fit once you are in the property you wish to remain in.
2. Your long-term goals
Assessing long-term goals is paramount when considering whether a reverse mortgage will be your right decision. By envisioning the future, you can determine if the reverse mortgage will align with those goals and lay the foundation for a financially secure and fulfilling retirement.
Whether it's ensuring a comfortable standard of living, funding healthcare expenses, or any other important factors, a clear understanding of these goals empowers you to make informed decisions and helps guard against potential pitfalls.
It's critical to educate yourself on the terms of a reverse mortgage. In fact, it's mandatory to receive HUD counseling before committing to a reverse mortgage to ensure you fully understand what a reverse mortgage is and your obligations as a borrower.
» Want some expert advice? Consult with a reverse mortgage lender
3. Interest rates and fees
The fees on a Home Equity Conversion Mortgage (HECM) can be higher than a standard or "forward" mortgage. This is due to the Mortgage Insurance Premium that HUD charges for insuring the loan. The upfront Mortgage Insurance Premium is 2% of the lesser of the property value or Maximum Lending limit, which is currently $1,149,825 as of 2024.
However, there is value to the consumer in this loan being insured by the government even though it comes with a higher fee. By having your reverse mortgage insured by the government, you are guaranteed access to your line of credit for as long as the loan is in good standing. If property values decrease or your lender goes out of business, your line of credit is unaffected. It cannot be frozen or reduced arbitrarily as a Home Equity Line of Credit (HELOC) can.
4. Alternative Options
The last thing you should consider before determining whether or not a reverse mortgage will be worth it for you is what are the realistic alternatives. It is important to compare the reverse mortgage with other alternatives and weigh the pros and cons of each option.
One example would be downsizing, selling your home, and moving to another more affordable home. In some cases, this is feasible and may present a great option if your current home is too large or a 2-story, etc. Downsizing may not be a significant benefit given high real estate prices in many markets, making downsizing difficult. However, utilizing the reverse mortgage for purchase program combined with a downsize could present the perfect solution if a downsize is necessary but will need more financial relief.
Unsure about the cost of a reverse mortgage? Try our Reverse Mortgage Calculator by ARLO™ to get a quote. Here, you can quickly compare different reverse mortgage programs to choose the best option.
Is a reverse mortgage worth it?
A reverse mortgage is a program that benefits many, but there are better options for some. Ultimately, the answer to this question will come down to your specific situation and goals. You must weigh the pros and cons of all the options available and seek guidance from trusted advisors when necessary. Education on the program is critical to making an informed decision, and that is why we have as much information on our website as possible to help our potential customers educate themselves.
» Want more information? Consult our complete guide to understanding reverse mortgages