Higher Reverse Mortgage Lending Limits Coming in 2017
Higher Reverse Mortgage Limits Coming in 2017
Starting in 2017, lending limits for government-backed reverse mortgages will increase, allowing borrowers the opportunity to access more of their home equity than ever before.
The vast majority of reverse mortgages are federally-insured Home Equity Conversion Mortgages (HECMs) that are backed by the Federal Housing Administration. These loans allow homeowners age 62 and older to convert a portion of their home equity into loan proceeds that can be used to supplement retirement spending.
On December 1, 2016, the FHA announced that it will increase the loan limits for HECM reverse mortgages to $636,150 next year, up from their current level of $625,500. This higher lending limit will take effect January 1, 2017 and will continue through December 31, 2017. The increase is 150% of the national conforming limit of $424,100.
Impact to reverse mortgage borrowers
So what do higher loan limits mean for reverse mortgage borrowers? With the Maximum Claim Amount (MCA) now set at $636,150 for 2017, this amount will now be the highest possible loan limit that can be insured by FHA on a single HECM loan.
The MCA is the lesser of a home's appraised value or the maximum FHA lending limit. This means that if your home is appraised at $700,000, your MCA under the HECM reverse mortgage program will be the max lending limit of $636,150, since this is the lesser of the two values.
But let's assume your home was appraised for $500,000. In this scenario, the MCA would be $500,000, rather than the max limit of $636,150.
Understanding MCA is important because lenders consider this amount when determining how much reverse mortgage loan proceeds will be available to you, also known as the principal limit.
Higher lending limits mean that some reverse mortgage borrowers can access a greater amount of home equity than in the past. This is especially true for homeowners with properties valued above the former FHA HECM max lending limit of $625,500.
To give you an idea of the impact of higher HECM lending limits compared to this year's current limit of $625,500, let's assume a homeowners has a property value appraised at $650,000.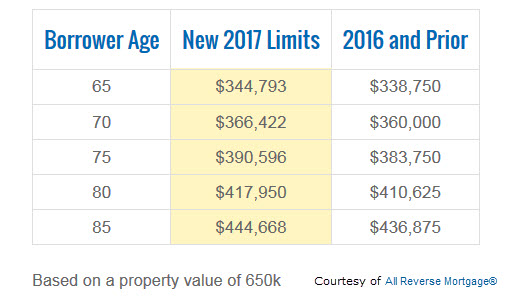 At age 65, this person would be eligible to borrow $344,793 under the new 2017 lending limits, compared to $338,750 under the 2016 levels. Meanwhile, an 85-year-old borrower could access $444,668 under the 2017 limit, as opposed to $436,875 under the 2016 limit.
Historically speaking
The year 2017 will be the first time the HECM lending limit has risen above its current level since President Barack Obama signed into law the American Recovery and Reinvestment Act in 2009. Enacted as a stimulus bill in response to the Great Recession, the Act contained a section that raised the national loan limit for HECM reverse mortgages to $625,500, up from their previous limit of $417,000.
Each year, FHA considers the decision of whether to raise loan limits on both agency-backed reverse mortgages as well as forward FHA mortgages, or leave limits the same for the next calendar year.
In conjunction with the higher limits for reverse mortgages, and after recognizing an increase to the national median home price this year, FHA also raised both the "floor" and "ceiling" loan limits for conventional mortgages in 2017 to $275,665 and $636,150, respectively.
So while lending limits for both FHA forward and reverse mortgages will be higher in 2017 than they were in 2016, there is a chance the limits could change again after December 31, 2017.
If you are considering a reverse mortgage and would like to learn more about HECM lending limits, and how to qualify for this loan program, calculate your available loan or call

Toll Free (800) 565-1722
Related:
Higher Reverse Mortgage Lending Limits Coming in 2017
(

21

votes, average:

4.95

out of

5

)
How do you rate this article?